Discover Castilla y León
Spanish Language Region
What to see in Castilla y León
Many of its destinations such as Ávila, Salamanca, and Segovia (three World Heritage Cities) and unique places such as the Cathedral of Burgos or the Atapuerca site, with testimonies of the first settlers of Europe, are essential visits. The famous Camino de Santiago, one of the most important pilgrimage routes in the world, also crosses through Castilla y León.
Ávila is located only one hour away from the capital of Spain, Madrid. Walls, palaces, convents, temples, make up its rich artistic heritage, a consequence of a rich historical past in which the three cultures that lived there came together. Ávila is the most important walled city. Any of the nine gates in its wall invite the traveler to enter the city and discover unique corners of this medieval city that is a World Heritage Site. Ávila is also a modern city that opens its doors to visitors who come to enjoy its tranquility and beauty.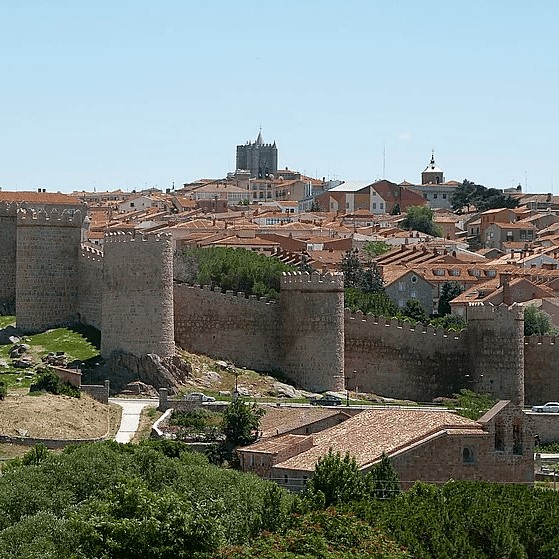 Salamanca, city of Spanish
The history of the city has always been linked to knowledge, arts, and sciences due to its University, the oldest in Spain. The current daily life of Salamanca is concentrated in its magnificent Plaza Mayor, a meeting point for young and older people and for all citizen events. All artistic tendencies are present in its buildings and streets, from medieval art to the Baroque, which here has its own style, El Plateresco, crafted in the typical sandstone of Villamayor, which is colored in gold at sunset. Therefore, Salamanca is named the "golden city". The fifty thousand students who study in the city give Salamanca's nights an incomparable atmosphere. All of this, together with its numerous movie theaters with important premieres, theatrical performances, and music concerts of all types, make Salamanca one of the most attractive cities in Europe and a monumental city par excellence.
Valladolid is currently the capital of the Autonomous Community of Castilla y León and the former capital of the Kingdom of Castilla. The city is very well connected to Madrid, only 55 minutes away by high-speed train. Valladolid preserves an important monumental heritage in its old town, especially noble houses, and religious buildings. Two annual events are worthy of mention: the Seminci, International Film Week, an obligatory date on the Spanish film calendar, and Holy Week, declared to be of International Tourist Interest, in whose processions you will find authentic works of art from the Castilian imagination. In the province of Valladolid, you can find the best vineyards and wineries of the Ribera del Duero Designation of Origin: Vega Sicilia, Pesquera de Duero, etc., and the Provincial Wine Museum in Peñafiel, one of the most important in Spain.